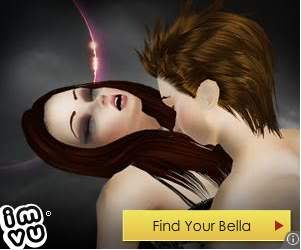 While hunting around for some information regarding a video game I'm playing, I noticed... that ad. And I laughed. Oh, how I laughed.
IMVU
... marketing toward the cybersex fetish niche? Well. I suppose it was only a matter of time.
Incidentally, while I understand that many women are supposed to kinship toward Bella... Since when did anyone want to be Edward Cullen? ("Mormon Vampire. Lovely. Takes all the fun out of being a Vampire.")
EDIT:
Wait. I've figured out how it works! See, as Twilight is a "mostly chaste" romance, IMVU cannot be openly accused of marketing towards the "cybersex fetish" niche market. Because they're encouraging chaste, uh, 3D animated... uh, dialogues.
All the while, still marketing with the sex. That's almost brilliant. It also must be what makes Twilight work. I'll have to think about this some more. Because I still fail to see how those novels could be seen as romantic. Yes, it's a love story. But I'm not sure a love story between two idiots is a love story worth reading or telling, even if one of the idiots is a vampire. In fact, I have tons of scathing comments about that.