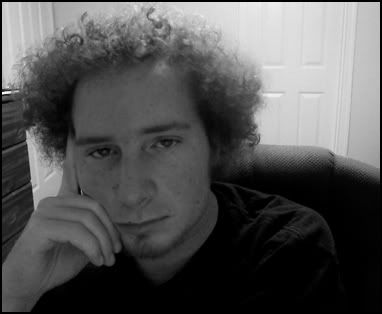 (Disclaimer: This blog entry is not meant to resemble anyone in particular. If anything, it serves as a reminder to myself of Exactly the Sort I never wish to be.)
We meet our Valiant Hero midway through the act of evocation itself. In his mid-forties, complete with medium length brown hair which is receding (this Hero will eventually be applying to join the Hair Club for Adepts), in a black robe, settled into one of the most uncomfortable Asanas imaginable. Around him has been scrawled one of Peter de Abano's more potent magickal circles, and he's facing the western quarter.
Outside the circle is a carefully made triangle, within which is a black mirror. Slid into the frame (to keep it in place) is the seal our fellow is using to call up his spirit. And let's not think this man a slacker; our Hero has tirelessly survived the mind bendingly dull the works of Arthur Edward Waite, in particular the Book of Black and Ritual Magick, not to mention Eliphas Levi, Aleister Crowley, and Dion Fortune. Waite was, of course, the hardest to read; but the good Frater dedicated a great deal of mental effort to surviving the contents with his sanity intact. He's learned to meditate in almost every Asana that he's ever come across; and, in only partial emulation of Aleister Crowley (the man was, after all, a bit liberal when it came to his quirky kinks) he's even learned how to maintain an erection while sitting in the most uncomfortable positions imaginable.
Alas, telling his female Lodge mates of this failed to impress them, as most of them are far more interested in having sex with Angels. While technically heresy in the eyes of the Catholic Church, they are on nonetheless solid ground when it comes to the Good Book. As suggested in Genesis 6: And it came to pass, when men began to multiply on the face of the earth, and daughters were born unto them, that the sons of God saw the daughters of men and that they were fair; and they took them wives of all which they chose.
Our fellow, far from being entirely discouraged, has thus returned his eyes to the realms of the Angelic. And as he drags a chunk of the astral plane to coincide with his position in space and time, he feels the onset of Gnosis: soul turned Aflame, eyes unfocused, spectrums of color previously undetected blistering within his mind's eye. He's narrowed his focus on to the idea of entity and entity alone. Unfocused eyes turn to gaze upon the black mirror and his reflection within it. He speaks the Barbarous Names. And... it stirs within the mirror.
We might take a moment to discuss our entity, and the difference between what our Magus has evoked, and what he thinks he has evoked. Technically speaking, this Bull-headed entity with the horns of a goat and the eyes of a cat (at least from the neck up; who knows what lingers beneath?), is indeed an Angel. But only in that the word angel is derrived from the Greek angelos - meaning messenger - and of the class of spirits that this entity is part of, it is one of the few that respond. As such it is definitely a messenger of it's class of spirits. But that does not necessarily mean that it works under the employ of One All-Powerful, All-Knowing God named Yahweh.
And it is most assuredly quite old, and quite young all at the same time. Its influence spans across multiple universes, and multiple dimensions, and it is constantly aware of fluctuations and changes of an endless array in all of these, all at once. Including the room it has been summoned into; with the exception of the circle – which is a walled-off microcosm now – it exists within the room as an influence, and its focal point is the mirror itself.
"Christ is King!" Declares the Magus, one Fr. Pontificus Albinus Rex, and is pleased by the response from the entity. A sudden burst of imagery: the sun in all it's bright glory, with a golden crown sitting atop it. The good Frater, of course, interprets this as meaning that our spirit is in the service of Christ... Unfortunately, this means that it accepts the authority of a guy named Yeshua, who became the Son of a God (namely Yahweh), and was thus divine in nature, having taken on some of that deity's attributes. Anyone who did this with just about any god or spirit of sufficient power would, of course, also be liable to the authority of Sovereignty. But this pleasant distinction is quite lost on our man. And so he continues: "Oh, ye spirit! Will you show me the portion of God's Plan that you're endowed with?"
Silence. Nothing happens. The spirit is now analyzing the seal that's been used to help anchor it to this location; and it has noticed that three of the symbols inside it are corrupted; most likely by printer errors from books made by major publishers. Or possibly they got messed up as far back as Agrippa, who had a shaky hand. Not that any magicians alive in the 21st century would know that Agrippa had a shaky hand, but there it is.
None the less this means one thing: Fr. Pontificus Albinus Rex has no idea what he has on his hands. And he's asking stupid, arbitrary questions. And thus, under the guise of the high art of Mageia, our fine Frater is about to become this week's primary dupe. He's flooded with waves of telepathic images that constitute about less than a single percent of what our spirit does; and he settles into a more comfortable position as he considers what he's been shown. What he doesn't know is that if he was even remotely interesting, he might have then acquired a constant companion. One which would make the name of Christ ultimately irrelevant, since he'd be on the way toward the same (but hopefully different, and less crucified) end. Hell, he might even have asked: where can I meet a woman who would actually want to have sex with a guy wearing a dyed black hemp robe?
Our spirit, having fulfilled the task that allowed desire to bring it into this plane of existence, departs with the good will of the Good Frater. And though a feeling of bliss remains, Gnostic Good-Guy Feelings if you will, nothing has changed. The information our fine Frater has received has not made him better; it's merely made him feel better, and as such down this course of action shall he remain.
But our Valiant Hero will never give up. It's the Great Work, isn't it? And you can never give up on that.