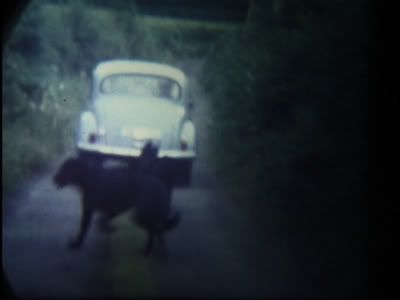 (I was going to put a lovely image of Lilith that Unknown Binaries has drawn at the top of this entry... But... 'Eh. Another time if she's okay with it.)
The Good: Brotha B. has written two excellent blog entries this week that I feel deserve attention from anyone with interests that even remotely coincide with the subject matter: Channeling Diety vs. Regressive Trance, and Further Considerations on Godhead Assumption.
I have known younger Brit Trad Wiccans who have complained about some of the problems he brings up; and I personally encountered some similar issues with the eclectic coven that I occasionally discuss. I don't agree with all his thoughts, but it will be some time before I specifically form the thoughts around what I somewhat disagreed with. And I may honestly keep that to myself.
Jason's post about personality engineering is excellent. I loved it.
I discovered that one of my favorite artists, Unknown Binaries, is in a book on Lilith. Two things I like!
The Bad: Being the person that I am, that meant looking into the author... And I came across this interview. Now let me preface all of this: I am quite possibly the worst person, ever, to be saying this. When it comes to what some Neo-Pagans call "Unverifiable Personal Gnosis," I just go... "Yeah, whatever."
What you do? That's your business. If you have had a wonderfully Venusian experience as, say, a Dolphin while in a trance vision state? Okay, well, whatever. It's no skin off my back. And you're allowed to have whatever kinks you might have. And all that. Don't let me get in the way. Really.
I write about some of my more extreme practices only if:
They are/were useful

They are... shall we say, publicly acceptable on some level or another. If I keep something to myself, it's largely just because there is always a certain level of self-preservation you have to take into consideration. In this case, I'll just talk around a subject. Discuss it, say, historically or with narrative.
Furthermore, I hardly expect any of my blog readers to do anything I suggest as such unless they actually want to. If something squicks you? That's totally okay. I don't want to pressure you. I try very hard to avoid the whole "peer pressure" schtick because, for the most part, individuals are individuals and we all have different needs and different ways of processing things.
The WTF:
"Being claimed by Odin happened very quickly, and a lot of it felt like it happened without my consent. (I have since learned that consent as a concept is much trickier–much more beside the point–than I understood at the time) Part of me felt that Odin was stealing me from Lilith, and this caused me to be somewhat outraged. As an unabashed feminist, who had left the patriarchal structures of Catholicism in my teens to embrace a Goddess-centered spirituality, being claimed by a male deity (much less as His wife) was just about the last thing I expected or thought I wanted. Considering Lilith's history of unfair treatment at the hands of male gods, my love for Her made me feel as if She had been cheated yet again.

What I came to realize is that Lilith had negotiated this relationship with Odin, and She in no way needed my misplaced rage to protect Her. Speaking with Her one evening, by the light of a single candle, I learned that not only did She approve, but that I was getting what She had never had: a relationship with a god I loved. In the case of Her relationship with Yahweh, that had been denied Her. It was either Adam or exile."

- Interview, Page 3.
And then I read this. And I... Maybe it's just way too close to home, and maybe I'm being closed minded.
But some part of me is squicked. In the worst possible way. And I'm not even sure I want to keep digging, because if what I suspect pops up? I'd probably be less than gentle with the subject.