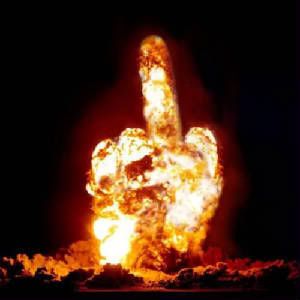 "Things in this monologue are going to be taken out of context and, you know, I'm going to be deemed a racist, and I don't care anymore."
-
Glenn Beck
, Is Massive Health Care Reparations? (July 22/23, 2009.) "We've already donated to Haiti. It's called the U.S. income tax."
-
Rush Limbaugh
.
"
Know Thy Enemy."
This entry is going to really, really

unnerve some people and falls outside my usual scope of commentaries; and because it sits beyond the scope of my usual commentaries, and I've actually tried to write it four or five times. Every single time I've ended up feeling physically ill, and forced myself to do

something else

.
The only real precursor toward what I'm about to say sits deep in the back of this blog, under the title
"Know Thy Enemy."
I'd posted a video of an ignorant, Southern, white woman discussing how Obama couldn't be our next president... 'cuz, well, he pretty much wasn't white enough. At the time RO had responded that I ought to find better enemies. And at the time, I largely agreed. That has changed. Even if I need better enemies, there's still a point at which you have to point at something and say: "I will
not
be associated with
that
, and here's
why
."
I wrestled with this entry until last night when my friend, Z. E. Accordino, got into an argument on Facebook with a fairly idiotic fellow that defaulted to ad hominem attacks. In the course of reading the argument I realized: "This is what's being peddled everywhere."
At this point, if you speak out against the Arizona Immigration Reform, or the backing of the Tea Party movement by white supremacist groups, you become an "unthinking liberal." Very well, if Unthinking Liberal I must be, then Unthinking Liberal it is. Except that I have some fucking thoughts, and I can write them down for critical reception. So here you have the words of an Unthinking Liberal who actually knows how to read a fucking book. I'm told that skill-set is disappearing, which may explain the state of this country more than anything else.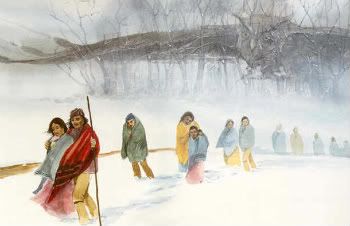 "
Back on the Ranch."
From the founding of the nation we live in, there have been what can be best described as 'racial tensions' at best, and flagrant bigotry at worst. One should take into account
both
the slave trade – and its use for economic gain in early America – and the actions of some of the founding fathers against the indigenous North American population. We should, for example, carefully consider what George Washington's plans for the Native American population were:
"In his last days as commander-in-chief of the Continental Army, Washington discussed his ideas regarding western expansion. He believed that many of the soldiers of his army should be granted western lands so that the new nation would have in place: a brave, a hardy and respectable Race of People, as our advanced Post, who would be always ready and willing (in case of hostility) to combat the Savages, and check their incursions. He asserted that the idea alone of such a settlement would awe and frighten the Indians, and it would protect future settlers from "savage barbarity." He wished to buy Indian lands fairly, and to induce them to relinquish our Territories, and to remove into the illimitable regions of the West...."


"

Unfortunately, the Americans' view towards the Indians had not changed much since the days of the French and Indian War. They were not seen as the proprietors of the land, but rather as creatures not very different than animals, selfishly holding onto lands that white settlers desired. The merciless way the Indians often treated white captives, along with their totally alien religious beliefs did nothing to improve the settlers' opinions of Indians. An early observer wrote that

[the Indians are] more brutish than the beasts they hunt, more wild and unmanly than that unmanned country which they range rather than inhabit.

"
There is no amount of distasteful irony here, as the 'savages' had been around long before the so-called "civilized" white Europeans arrived. While plenty of people tend to make comments about how "that's all in the past," I've often discovered that when asked if they've visited a Native American reservation recently, they conveniently decline to answer. The last time I visited Wyoming, in 2002, my family and I made several trips to reservations across the mid-west and West Coast. Nearly all of them were dismal, grotesque monstrosities that left one feeling as though they'd somehow slipped a hundred years backward in time. After the Trail of Tears, we stuffed the Native Americans into every bleak, broken nook and cranny that no one else in America wanted, and promptly did our best to forget about what we'd done. And to put it bluntly before the readers of this blog: that hasn't changed in most places in the country we live in.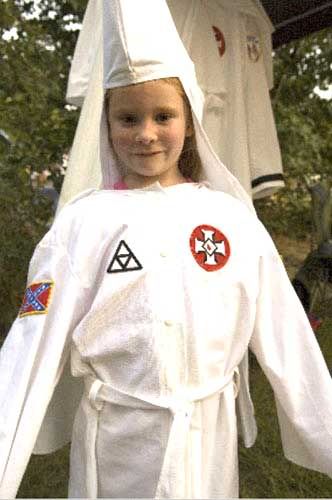 "
Simon Legree's White Hood."
Following the end of the Civil War, which was (contrary to popular belief)
not
fought to free slaves but to maintain the integrity of the fairly new nation, the 13
th
Amendment
was passed. This officially freed any African Americans who had been slaves in the Southern States during the Civil War; in response, a series of laws were passed.
These laws have come to be collectively known as Jim Crow Laws. The basic premise of the laws was that of racial segregation and with it came the use of the phrase: "Separate but equal."
As it turns out, there was no equality; African Americans were driven en-mass into scenarios where they had to continue doing the work they'd done before (manual labor for farming)
. Most often those who found themselves forced to do this work also discovered that sharecropping came with certain issues: such as being taken advantage of by the white landowners, and still living in dismal poverty. Almost simultaneous with this was the rise of the Klu Klux Klan. I could, honestly, discuss the KKK for... well, for a very long time. But I'm not going to do that. Three things come to mind:
At some point I read that the KKK began as a 'folkish' movement that was co-opted by White Supremacists. However, their 1868 charter reveals otherwise. As one might note question five at the bottom: "Are you opposed to Negro equality both social and political?"
The KKK constituted a secretive, and vindictive, movement by the secessionists and was most often pioneered by former Confederate soldiers.
The legal apparatus in the 1800s that actually aided and abetted Southern (and elsewhere) violence and oppression against African Americans was the Democratic Party. This weirds me the fuck out, because to this day we seem to have just switched the terms we're using to describe the war against bigotry. Today "Conservative Republicans" are feeling threatened and donning hoods – one hundred and some years ago it was Southern Democrats. Take a moment to think about that. Nothing has changed, except how we see the respective parties. But the same debate is still raging even now.
In the 1998 movie American History X, the character of Derek Vinyard makes a comment that actually underpins the importance of what I'm writing about, he states: "We're so hung up on this notion that we have some obligation to help the struggling black man, you know. Cut him some slack until he can overcome these historical injustices. It's crap. I mean, Christ, Lincoln freed the slaves, like, what? 130 years ago. How long does it take to get your act together?"
This is exactly the attitude that certain members of the media – from Rush Limbaugh to Glenn Beck – tend to take when they begin throwing out their bigotry filled remarks. It undermines the actual history of events that have taken place; the emergence of the KKK, their use of fear, the use of violence to keep an American minority from voting... All of these are very real issues, and at present we are seeing something that could set the stage for the re-emergence of just those things. The problem is that many common individuals hold just such opinions. It should be noted that the KKK is the easiest symbol of the things above to point to. However, they were aided and abetted by officials, and even the average American in the process of degrading fellow Americans and keeping their voices from being heard. How can you 'get your act together' if you're living in poverty, forced into ghettos, and silenced utterly by the "powers that be"?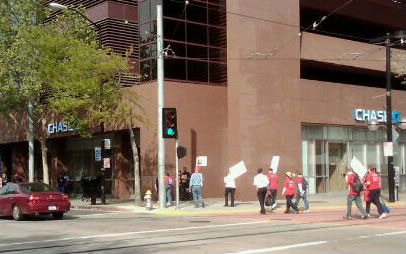 "
Tea Bagging: What Halo Players and Conservatives Have in Common."
In 2008, Barak Obama became the first African American president. To many this heralded the potential dawn of a 'New Age' – a time when even minorities could have a voice and lead the people. To others, it appears to have been a "last straw" situation where their white privileged status was at last threatened. (I'm not biased. Really.)
In 2009 the "Tea Party" movement began to sweep through the nation as a form of backlash against the last election; for some it represents a conservative movement toward balancing out what they feel is the power of "big government" and "big spending." For others it means something else entirely.
On January 11th, 2010 the liberal watch-dog media group Democracy Now produced the following report that the Tea Party movement was being solidly interfaced with by a wide range of white supremacist and racial separatist movements. While I've seen a few people deny that there such a thing is happening, comments by "Tea Party" movers and shakers would pretty much indicate otherwise. Indeed, the entire undertone to conservative protests against Obama's choices has often been riddled with racist bigotry.
The passage of the recent Arizona 'Immigration Reform' conforms pretty solidly with these conclusions, as well. When the ACLU and others worry openly that the new law – which is a travesty to consider imposing on any American citizen – they make an excellent point. Not only can the law be used for racial profiling, I believe that's exactly why it's actually been put in place.
Consider for a movement a recent post to a conspiracy website, and consider that the events in the video and what is being reported do not actually conform to one another, indicating the author's bigoted cognitive bias. Now consider that it was the act of posting this link, and my friend's argument with a chest thumpin' "Good Ol' Boy" that caused this blog entry to be written.
"Non Serviam: Latin for Don't be a Tool."

At a point of economic crisis, when the future of the nation hangs uncertainly before us, we should take a moment to step back and consider the situation as it stands. On one end are those who feel threatened, and it's been made all the worse by loss of jobs, homes, rising unemployment...
Who do we turn to? What do we do? Is there anyone to save us? The answer is no. No one is coming to save us. We have to fix all of this – all of it – ourselves. As such I would propose the following points of consideration to anyone seeking to take political action:
Don't get overly emotional unless you must.
Take a step back. Look at as many angles on the situation that you can. Watch Fox News and CNN if you can stomach it, read up on the Internet from both sides of the 'liberal/conservative' divide and take that into account when voting. There is a time and place for anger. The voting booth is not that place.
Don't make Charles Manson the head of your political party.
This has always seemed fairly obvious to me, however it seems that some people just don't get it. Listen: if someone wants to start a Race War don't vote for them or give them power. When the "Tea Party" folks start ranting about rising up with guns, we should become seriously concerned because it's a very small step away from violence enacted against innocent individuals. These people are not your friends. You don't want their votes. They want to incite hatred, and turn us against one another. They want to harm people who have never done them wrong. Calling such remarks evil is not a fallacy.
Sarah Palin is too fucking stupid to save you, people.
Seriously. I won't even bother going on.
At a time of economic crisis, take the poor into consideration if you're well off.
We're talking about human fucking decency. And lately it's been sorely lacking. Comments like this don't take into account the reality of the situation. One more thing: white supremacist groups don't give a fuck about white, poor people. They'll never, ever be your allies.
If you've been reading this, and find yourself suspecting that I'm your enemy? I probably am. And honestly? I'm fucking proud of it.
Flags, Flax, & Fodder,
Jack Faust.

P.S.: The image of the girl in that... getup was so disturbing to me I had to use it just to make my feelings absolutely clear. That evil shit gets taught to kids. Evil fucks indoctrinate their children. And it's

not

okay.