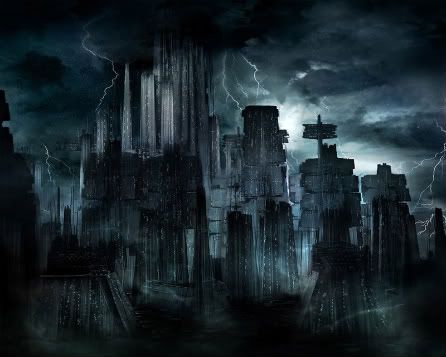 "Then we arrived within the moats profound,
That circumvallate that disconsolate city;
The walls appeared to me to be of iron...
More than a thousand at the gates I saw
Out of the Heavens rained down, who angrily
Were saying, 'Who is this that without death
Goes through the kingdom of the people dead?'
And my sagacious Master made a sign
Of wishing secretly to speak with them."

- Dante,
Inferno
(
The City of Dis
)
"It is extreme evil to depart from the company of the living before you die."
-
Seneca
. Roman philosopher, mid-1st century CE. "The mechanic says:
If you're male and you're Christian and living in America, your father is your model for God.
And if you never know your father, if your father bails out or dies or is never at home, what do you believe about God?"
- Chuck Palahniuk,
Fight Club
.
***
You can call me Jack.
On April 18th, 1984, I entered the world. I was born in Tonopah, Nevada. It sits in the middle of what you might call The American Hell, which is better known as the state of Nevada. Thirty miles beyond the broken and dwindling mining town is Area 52; seventy miles away is the better known Groom Dry Lake, or Area 51.
Tonopah was established as a major mining spot when silver was discovered in its vicinity; over time the veins dried up, and so did the town for the most part. The 2006 census lists the residents of the town at around 2,627 individuals. Many of the employees worked for the United States military, which until 1992 continued to detonate nuclear weapons beneath the surface of the earth. As to whether or not there were nuclear detonations at Area 52 or not, I do not actually know. My family, however, has stated that they were within proximity to feel the 'earth-quakes' and tremors caused by the underground detonations. In any event: the radiation most likely contaminated nearby water, and to this day my mother and others living in Nevada at that time have thyroid issues.
My mother was a teenage cheerleader, and military brat; her father worked at the military base. The man whose genetics I bear – by which I do not mean to imply that he is a 'father' at all – was also a bastard, adopted and with his records sealed. He became worried my mother would leave him and head away to college and decided it was somehow necessary to cut a condom. He attempted contact once when I was six; he called, asked my mother if she had a boyfriend, and hung up upon being told that she was married. He never asked about me. I'm told it's quite possible I have a half-brother I've never met; but I've never desired to know my father.
Two months after I was born my mother took me to a park. A woman was sitting at a bench on the west side of the park; she was sobbing. My mother came over, seated herself, and asked what was wrong while holding me. The woman sobbed: "I... I also just had a baby."
"I wanted a boy so badly," she sobbed softly, "but I had a girl."
Suddenly, the sobs stopping, she fixed her gaze on my mother and said: "You have a boy there with you. Would you trade me?"
My mother, obviously, did the smart thing and left in a hurry. Three to four months we moved, with my grandparents and other family, to California and left the wasteland behind. I think the event traumatized her, because being told tales of changelings and the special horror of the fae – not to mention Satanic Serial Killers Seeking Young Scott-Irish Boys for Sacrifice (it was the 1980s, after all) – became weirdly common.
I visited Tonopah for first time in 2003. Most of the town was boarded up; even the McDonald's had closed. I walked up a half-green, half-brown hill and looked at the newly installed High School. "What did you do for fun here?"
"We went out into the middle of the desert," my mother told me, "we took drugs. We drank. We partied. Sometimes we hoped tomorrow would never come; sometimes we clung to hope that we'd get out."
It sometimes startles neo-Pagans when I express the belief that there are dark places on earth. Places touched by old, wild, and mad things. The belief is that you can conveniently ignore them; pretend that the blasted shells of what civilization left behind aren't there. But that doesn't make them go away. Some of us are still born there; some of us leave towns named things like "Hidden Spring," and later look back and realize that something lives there. Something old, and creepy, and dingy, and that... Well, it (and all its kind) might not just have our best interests in mind. But nonetheless it is there, and we must look it right in the eye. Acknowledge it for what it is.
Of the important traits a witch must possess, Robert Cochrane writes that: "above all they can tell the Maze and cross the Lethe."
By using the term 'Lethe' he's alluding to the River of Death, which is to say, one must be able to enter the land of the dead by some manner and learn the lessons that come with that landscape. When I visited Tonopah, years ago, I realized something: it was dead. The inhabitants just refused to acknowledge that, and by clinging to that broken and blasted space, slowly and surely seemed to go mad.
I count it as a blessing I was not there longer.
***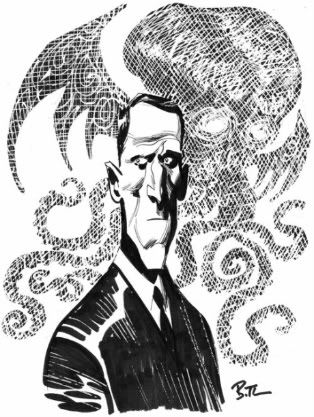 The Dark, the Spooky, and the Cookery!
It's spring, and that means 'spring cleaning.' So this year, for this month, I'm going to
air out some of my crazy!
I felt Cthulhu's call, as it were, and it's time to bring forth my giant bag of: "oh my god, get the tinfoil cap!"
Sitting dead center of all the associations for the following blog entries that I've chosen, is a man named H.P. Lovecraft. For whatever reason almost every male Chaos Magician you'll probably ever meet has decided to chat up Dark Gods, Dead Gods, and Deep Fried Gods. Foremost amongst those that hand out blind, raving idiot daemonic gods is Mr. Lovecraft. As such he made the perfect focal-point for my insanity this May. Through him I may discuss racism (not in his stories; but in our world, today), horror, old things returning(!), fear and other topics.
To warn you: nearly all of this information will be filtered through a heavy layer of pure cosmic nihilism. I'm hoping it'll get it out of my system so I can go back to worshiping sexy ladies, dudes with horns, star deities, and eldritch shit that lives in the hollow earth. (Because: seriously, after about a week you're like: "Hekas, Hekas, H.P. Lovecraft!")
What you can expect:
Fairies, UFOs, "THE GATE BETWEEN WORLDS DISSOLVING!" … John Keel, shadow things, and who knows what else.
What you shouldn't expect:
Cruelty to animals. Harming one's fellow humans for, like, fun. Etc.