I'm a huge nerd. At this point in my life, there is absolutely no sense in denying it. I play video games, I sometimes read children's fantasy novels, and I played
Dungeons & Dragons
through-out high school. In my defense: the group I played D&D with may very well have been the
90210
version of what you're imagining. We all were fairly good looking, and we all had girlfriends at various points who even joined us in playing the game.
But above all: I love comic books. My mother loves reporting this factoid to just about everyone who will ever meet and know both myself and her, and has even gone to lengths to discuss it on Facebook. When I moved out of my parents house, I recall being told: "You know, if you take the Batman sheets you've owned since you were five, no woman will date you."
(My mother, for the record, was quite wrong. It was actually harder to keep myself from dating and having sex at certain points. Nerds of the world: you've been lied to. You can stop hiding in your room and masturbating to Hentai. Women will actually date you.)
Anyway. Comics. Yes, I love them. In 1989, I had just turned five, and I recall going on an Easter Egg hunt. I found three eggs, which allowed me to select from the more, err, "luminous" prizes. I picked up an issue of Green Lantern. It didn't last long in my hands; either the word "damn" or "bitch" was in it, and my mother promptly burned the thing in a fit of Christian Rage.
This didn't dampen my desire to read comics, which reawakened periodically in me. The last and final time was in high school when a trio of super-smart, super-hot and totally nerdy girls introduced me to Alan Moore. A friend of mine formed the counter point to this act by convincing me to pick up Frank Miller's The Dark Knight Returns.
And honestly, lately the comic universe has been pretty awesome. Grant Morrison unleashed Final Crisis, Marvel had Hulk Smash Everything (!!!!!!!111); and Hal Jordan has returned, as badass as ever...
On the other hand, there's the comic movies. And the fact that Ryan Reynolds has been cast as Hal Jordan.
Let me just say: Ryan can't do that character justice. Ryan Reynolds should be playing this guy: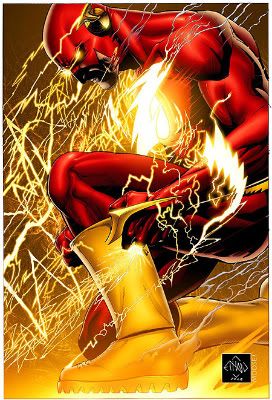 And who should be playing Hal? This guy and this is why:
And then you have each of them show up in the other's movie, just like in the comics, all the while gearing up for something like this:
Yeah. The Sinistro Corps War would be pretty much amazing and the only way to deal with the up coming Avenger's flick. (That movie will either be amazing, or suck so hard we'll wish they made another Wolverine film...)

Finally: any director who reboots Spider-man into a "dark and gritty" movie, needs to be shot or cursed. I mean, if you want "dark and gritty:" hire George Lucas. Film the Spidey clone saga. Lucas has already fucked up with three clone-war movies. Why not just give him three more and be done with it?