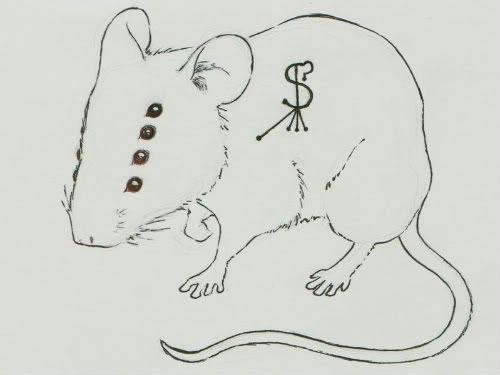 First
: thank my
spouse
for the drawing. I produced a scribble that looked almost nothing like this, but she thought was silly and cute. (Specifically, I found I couldn't draw legs and so there were just some darkened lines to denote them. The face looked a bit like a cat's, and about all you could tell is that it had eight eyes.) He's not being added to my google Genius Loci map because I found him at my residence.
Second
: this spirit was a pain in the ass. He had the attention span that his general form denotes, and I actually had more trouble holding his attention than anything else. He was otherwise fairly easy to deal with and provided details as to what he was readily. One of his claims was perhaps the most funny: that he was King of his kind. I have no idea what that means. Does it mean he's king of the Field Mice? Or king of the eight-eyed freaks that look like him? I attempted to find out but couldn't hold his attention long enough to distinguish just what he meant by that. After snapping a few times (with my phantom astral fingers) and explaining where he was repeatedly ("you're in my astral temple." "How did I get here?" "I called you here." "How did you do that?" "With your sigil." "Oh. My name. Okay! Yes."). He then proceeded to give me his other name (Eroclis). He seemed generally benevolent and eager to do work, but couldn't tell me what he was good at. I asked what he thought he could do, and he said he could "find things." And "maybe repair relations." I had no relations to repair, so there wasn't much to try. Ironically, while drawing his picture Nicole dropped a pencil and lost it. I could've probably tested him then. (I might do so later. I'm kind've afraid he'll forget what he's doing half-way through any given task, though. And I'm not sure a pencil merits a full Red Meal.) He also noted that we "had" met, in a way, before. Specifically, he was the one that sent an older African American woman with peppery hair to me, to explain the house's history. I recall that when I met her, she'd been extremely fidgity as well (which had made the entire encounter more than a bit surreal). I asked him if he could do that again in the future and he said he'd try.
Last
: After drawing him last night, without the sigil, Nicole had nightmares. It might be totally unrelated, however who knows? It could be he was kind to me because I knew his "name" and could thus admonish him. He seemed pretty benign to me, attention span aside, anyway.
So there you go. A Mutant
King of the Field Mice
. At least he was... cute?